Almost 80% of the mines surveyed in 2008 by the International Aluminium Institute are ISO 14001 certified.
More than 80% of surveyed operations have a long-term or completion plan for their mining area, which aims to leave a self-sustaining system with realistic land-use options in place after mining activities have been completed. Rehabilitation practices and efforts are based on a variety of sources including:
Local, national and international NGOs;
Local, national and international company standards;
Government standards;
Local and national
Two thirds of mine operators have agreed a final land-use for the rehabilitated areas with stakeholders such as traditional owners, landowners, government agencies and regulators, local communities and NGO's. Monitoring and reporting programmes, which formally assess the strengths and weaknesses of the rehabilitation, are in place at 87% of surveyed mines.
Over 80% of mines maintain an environmental awareness and training programme for all employees and contractors who are involved in rehabilitation.
Mine operators assess the environmental (and social) impacts of their activities before commencement of mining. This assessment includes identification, prediction, evaluation and mitigation of the biophysical, social, and other relevant effects of the planned project prior to licensing and closing a contract. After the environmental impact assessment (EIA) has been carried out, precautionary measures are applied to prevent and limit impacts of the project on the natural environment. The EIA can include:
Monitoring the quality of surface and groundwater;
Impact of mining activities on freshwater uses (drinking water
supplies, fishing, irrigation, recreation, industry, domestic);
Baseline and impact assessment of terrestrial and aquatic flora and fauna;
Dust and noise level monitoring and impact assessment;
Assessment of social impacts and community engagement.
Strategies to mitigate negative environmental and social impacts of bauxite mining include:
Noise abatement measures such as monitoring and modelling noise levels, provision of buffer zones, altered timing of operations, modification of equipment, changes to mining and blasting methods;
Control of dust levels by watering, road maintenance and vehicle speed limits;
Construction of settling ponds and other drainage control structures;
Rehabilitation of mined areas as quickly as possible after closure;
Procedures to minimise hydrocarbon and other spillages;
Resourcing of research and development projects.
Bauxite mining consumes a relatively small amount of energy (and consequently has low greenhouse gas emissions) compared to alumina refining and aluminium smelting processes. Diesel fuel and fuel oil combustion provides the bulk (95%) of the energy required to extract and haul the mined ore.
Global average energy consumption is around 150 MJ per tonne of bauxite, with each tonne of bauxite having to be transported on average 50 km from the point of extraction to the shipping point or local refinery stockpile. Bauxite mining emits, on average, less than 100 kg CO2 per tonne of bauxite.
Mine operators have adopted a number of strategies to use energy more efficiently and to reduce emissions. These strategies include:
Purchase of larger, more energy efficient mining equipment and trucks;
Improved maintenance of mining and transport machinery;
More efficient use of equipment by optimising truck cycle times and reducing idling and waiting times;
Reduction of haul distances for overburden storage;
Use of downhill regenerative cable belt conveyors to transport bauxite;
Change to lower emission fuels such as natural gas, where possible.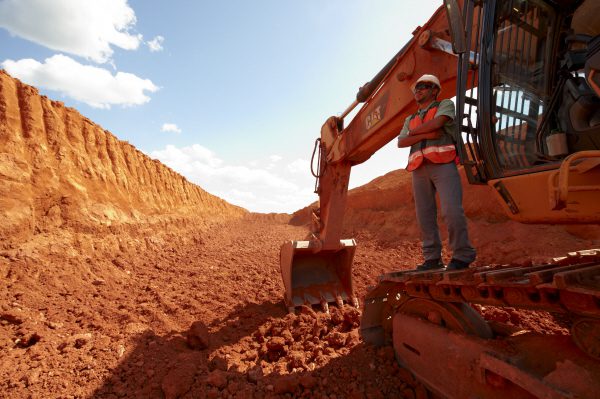 A sustainable mining operation maintains the natural capital of the area in which it is located through sound environmental management systems. Successful rehabilitation and environmental management ensures that bauxite mining is a temporary land use that does not compromise other long term land uses.
Along with the land required for infrastructure, globally only around 50 km² is newly mined for bauxite every year; this is equivalent to around one square metre disturbed per tonne of aluminium produced.