Bauxite Residue Management
Bauxite residue is a by-product of the Bayer Process.
Bauxite residue is primarily composed of the insoluble fraction of the bauxite ore that remains after extraction of the aluminium-containing components. Iron oxides (10 – 30%), titanium dioxide (2 – 15%), silicon oxide (5 – 20%) and undissolved alumina (0 – 20%) make up the residue, together with a wide range of other oxides which will vary according to the initial bauxite source. The high concentration of iron compounds in the bauxite gives the by-product its characteristic red colour, and hence its common name "Red Mud".
Initially, the residue is washed, to extract as much valuable caustic soda and dissolved alumina as possible. The caustic soda is recycled back into the digestion process, reducing production costs and in turn lowering the alkalinity of the residue. The pH level of the residue is generally up to 13 or higher in some cases, due to the presence of alkaline sodium compounds, such as sodium carbonate and sodium hydroxide.
Like most ores and soils, bauxite can contain trace quantities of metals such as arsenic, beryllium, cadmium, chromium, lead, manganese, mercury, nickel and naturally-occurring radioactive materials, such as thorium and uranium. Most of these trace elements remain with the residue after extraction of the alumina.
After washing, the residue is contained in special facilities known as Bauxite Residue Disposal Areas (BRDA) or Residue Storage Areas (RSA).
The IAI'S dynamic material flow model indicates that, by 2050, there could be a bauxite residue global inventory of 10 billion tonnes.
Demand for aluminium is expected to grow, with supply coming from both primary and recycled sources. This means bauxite residue will continue to be generated and available for industrial symbiosis. Bauxite residue can be used as an alternative raw material in industrial processes especially where traditional materials may become scarcer.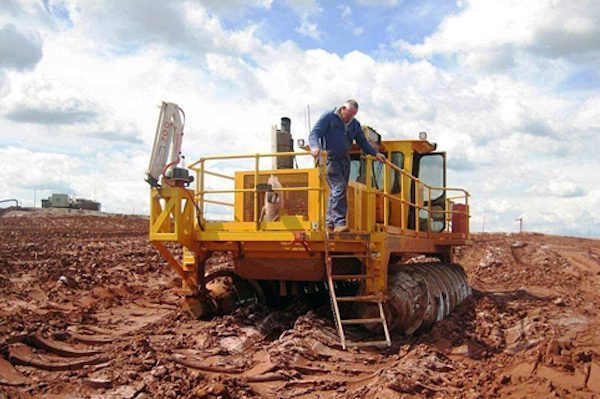 The industry is constantly working on new residue treatment methods to increase the removal of alkaline fluids and salts.